About Us
Our Company History and Background
We are a true husband and wife team that uses the products that we sell so we know our products. Woodworkingparts.com is known for its customer service and speed of shipping. Our customers come first!

Pam Jackering ~ Painter
Pam is the creative force behind WiseAcres. Formerly a crafter of soft-sculptured dolls, she has diverted her talents toward a new type of painting which gives the illusion of three dimensional objects but is actually painted on a flat surface.
Her items have been very popular at craft shows throughout Wisconsin. Her return to craft shows every year, brings a surprise to visitors every year to see what Pam is doing this year. Pam's painting has a family history as her Grandfather was also a painter.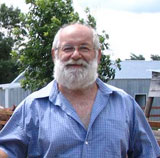 Mark Jackering ~ Wood Craftsman
Mark enjoys spending time in his workshop. Using some of the most advanced machinery in the business (Hegner scroll saw pictured) and machinery passed down through several generations (Delta table saw from three generations and still going strong), his fretwork creations are one of a kind.
About ten years ago a lifelong interest in woodworking led WiseAcres' Mark Jackering to fretwork as a creative outlet. Mark has been selling his handcrafted work at arts and crafts fairs throughout the state of Wisconsin since early 1989.
Though Mark often claims "practice, practice and more practice" is the key to success with any woodworking project, his innate attention to the finest detail and inexhaustible patience are evidenced by the heirloom quality of his work.
Mark also enjoys meeting customers and fellow woodworkers to exchange ideas about cutting technique and wood preferences. It's not only a passion and hobby, but also an inspiration.
Mark has won awards at crafting events and his knowledge of woodworking was recognized by the DeWalt company as he demonstrated machinery at the Milwaukee Power Tool Show. Mark was published in Scroll Saw Workshop Magazine with an original pattern and detailed description on its creation.
A Brief History of Fretwork
Fretwork is a form of craftwork created by sawing ornate, intricate patterns with numerous inside and cutout openings involving many quick sharp turns.
The ancient popularity of the art form is evidenced by the ornamental fretlike overlays found on furniture removed from 3000 year old Egyptian tombs. Fretwork veneers are found on early Greek and Roman furniture. In 18th century Europe craftsmen Duncan Phyfe and Thomas Chippendale used elaborate fretwork patterns in their work.
Fretwork became popular in the United States in the mid 1800's with Victorian architecture and the demand grew for wooden household items with ornamental embellishments and delicate, detailed designs.
The main difference between fretwork then and now is the array of excellent tools and saws now available. However the basic technique remains essentially the same as over a century ago.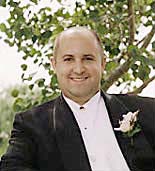 Matt Jackering ~ Webmaster
Mark and Pam's only son Matt is the webmaster, graphic designer and marketing manager for WiseAcres Art LLC. Matt owns and operates Fun Factory Entertainment, a mobile DJ company in Appleton, Wisconsin and is also a staff web designer for ProDJ.com. During the week, Matt is working on websites and designs for others through his other business, Fun Factory Design.